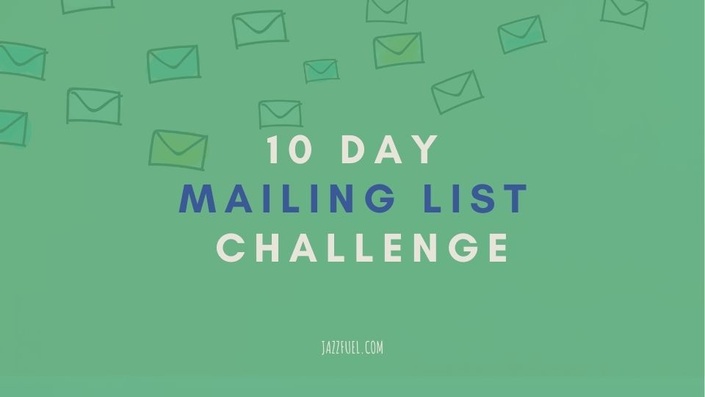 The Mailing List Challenge
Get Your Mailing List & Newsletter Into Shape (Closes Sunday!)
Whether you're launching new music, announcing tour dates or simply trying to drive more awareness to a new video, one of the biggest challenges is actually connecting with enough of the right people.

It doesn't matter how great your album or live show is, if you can't get enough people to check it out, you're missing out on possible support, attention and money.
In this video course I'm going to take you through the hows and whys of building an engaging and effective mailing list of fans so that you can get your music, videos & gigs in front of a bigger audience of motivated customers.
By the end, you'll have everything set up and a simple plan in place to keep this growing, with minimal time or effort required on your part.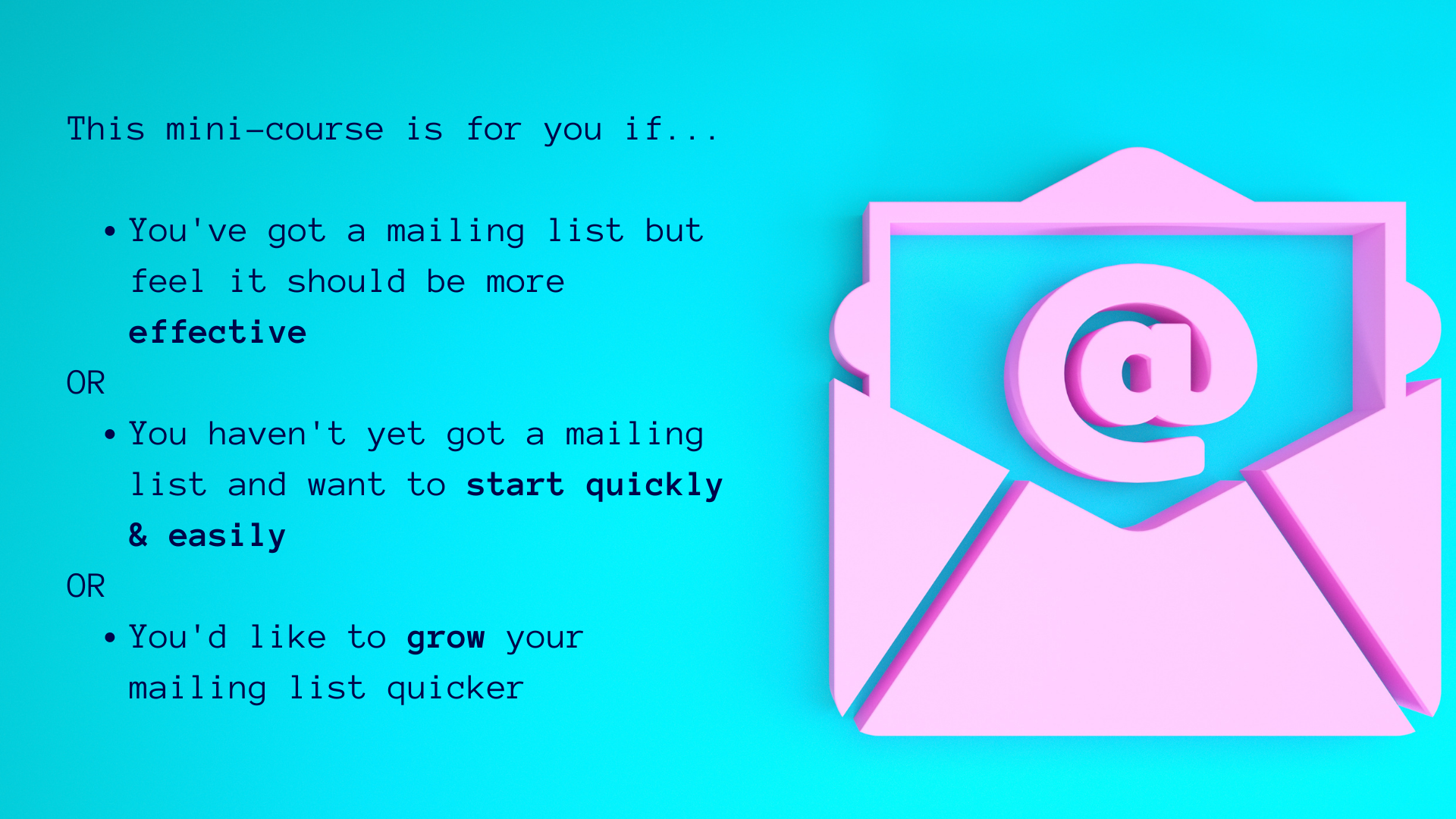 Releasing music to crickets

Maybe you've experienced this first hand:
You spend months putting together your latest piece of content, put it out into the world and then… nothing..
Well, not nothing.
You get a bunch of likes on Facebook, some nice feedback from a couple of people you emailed about it, but not much else.
Certainly not a steady flow of orders via Bandcamp, or even a few hundred streams on Spotify.
Or maybe you spent half a year booking a bunch of gigs and then, 2 weeks before the tour starts, the promoters start telling you they haven't sold enough tickets…
Sure, you can post a last minute shout-out on Facebook, but that's often not enough on its own.
In all of these situations, tried-and-trusted methods like PR, social media, advertising and word-of-mouth help, but having a motivated and loyal mailing list of fans can really take things to the next level.
In fact, one study by McKinsey & Company reported this: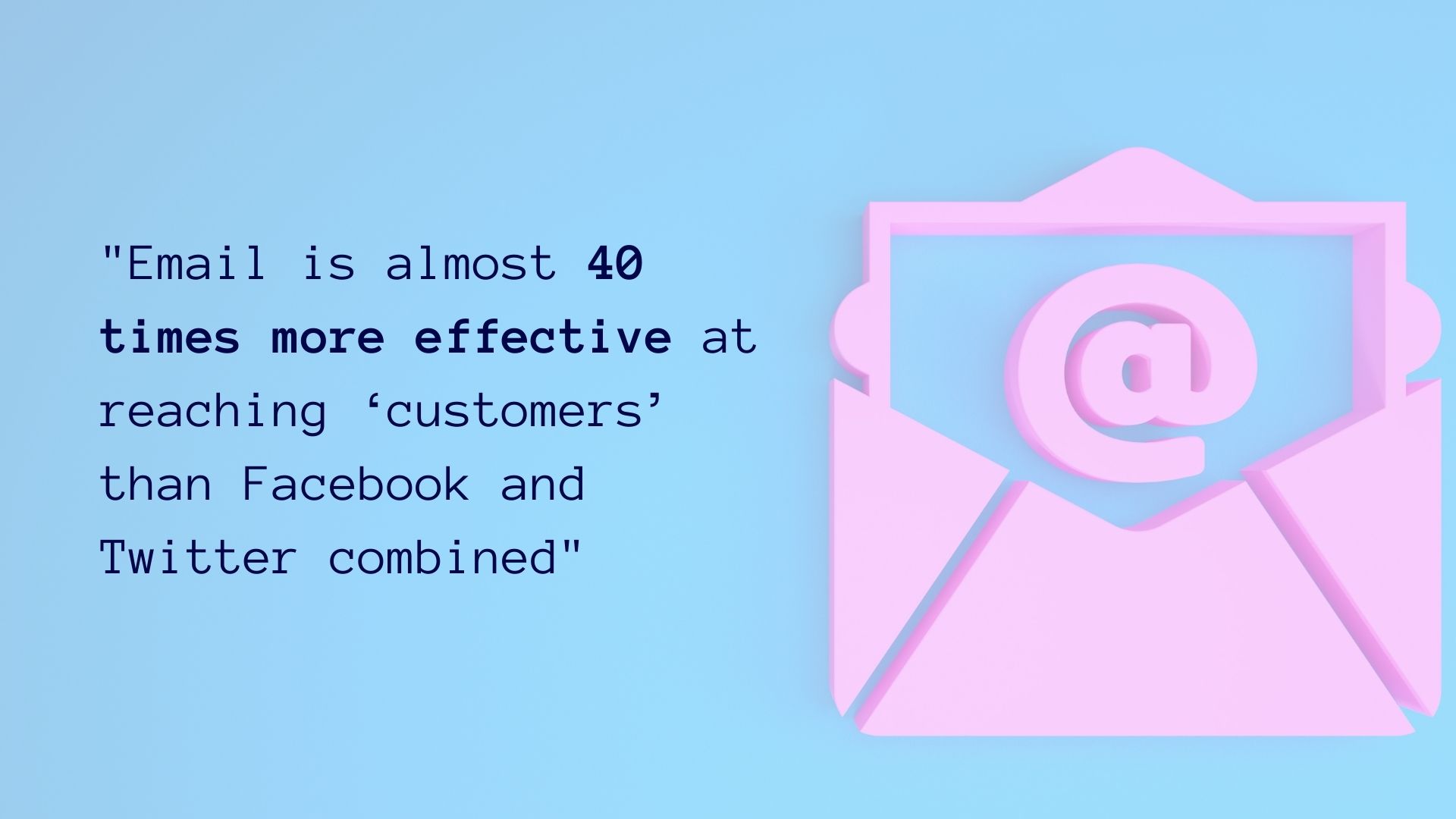 40 times!!!
That means that you are potentially missing out on thousands of 'sales' over the course of your career.
If you're manufacturing CDs or vinyl, or taking a % on tickets, you know that each of those missed opportunities is costing you real money.
Let's imagine an alternative scenario.
You've spent time building up an engaged list of 500 email subscribers. Not just 500 email addresses, but 500 people who - for the most part - are opening and clicking on the mails you send them.
Next time you drop a new single, release a new video or announce a pre-order of a new album, you have up to 500 people that you can immediately connect with.
How about if that number grows to 1,000 fans around the world…?
...5,000?
It might seem a long way away from where you are now, but if you're in this business for the long-haul, these are realistic figures in the long-term.
And, most importantly, if the goal as a musician is to achieve complete freedom to create the music you want, and to have it support you financially, a great mailing list can be a massive asset.

No cheating
As with all things that can have a tangible effect on your career, there's not a quick solution to this.

There is, however, a simple solution.
Once you put a few key things in place, your mailing list can continue to grow with minimal input from you.
How does 30 minutes per month sound?
If it results in actual growth in your career and your income, I'd imagine that's a pretty good deal!
This course will show you the key things that you need to have in set up and then provide you with a simple blueprint for continuing to grow your email list.
It's not magic.
It's not even a 'hack'
It's simply a case of putting into action things that millions of marketers, companies and even some musicians are already doing to grow their businesses.
I don't know what to say…
Maybe you've also thought that?
"People don't sign up for my email list"
"I forget to send regular newsletters"
"Very few people click on my emails"
"I feel like everything goes to the spam folder"
These are all valid and common experiences, but that doesn't mean it's the only way...
Let's get moving
The goal with the course will be to:

Remind you of all the different places you should be collecting email addresses
Challenge you to plan your newsletters for the next few months
Show you how to motivate people to sign up to your list
Give you some support & feedback as you try out these things
Provide some community around the work, so you can see how others are doing this
Here's what you'll get
3 sets of lessons, plus mini-tasks, to get your mailing list into shape
Examples and templates to help maximise your results
1-to-1 feedback on any questions, technical or creative
A downloadable eBook guide to best practices to help you going forwards
A live-stream Q&A session (with replay)
You'll get access to the lessons to watch in your own time, whenever you want, for a whole year.
So if you're looking for some strong accountability and motivation to get this done, join us in 'real time' for a few minutes each day. If you're not sure about your schedule, work through it in your own time over the next few weeks.
Either way, you'll have everything you need to make progress.
Your Instructor
I'm a jazz fan who became a musician before moving onto the 'business' side of the music industry.
I've been working as a booking agent and artist manager for jazz musicians since 2008 and the host of Jazzfuel since 2016.
I graduated from a 4-year jazz saxophone degree at The Guildhall School of Music in London back in 2008 and, about a year later, started out working for one of the UK's leading jazz music companies, which dealt with bookings, management & publicity.
I host Jazzfuel to share my love of jazz with fellow fans around the world.
Course Curriculum
Intro
Available in days
days after you enroll
Collecting emails
Available in days
days after you enroll
Growing Your List
Available in days
days after you enroll
Frequently Asked Questions
When does the course start and finish?
You can pass through the lessons in your own time, for the 12 months after you sign up.
How long do I have access to the course?
You'll have access to all content until the end of January 2024
What if I am unhappy with the course?
This course is here to help you! So, i you are unsatisfied with your purchase for any reason, contact me in the first 30 days and I will give you a full full refund, no questions asked.
Decision time!
For many musicians, building an effective mailing list stays on the 'should do' list along with all sorts of admin and social media tasks.
But in reality, it has the potential to transform your options as a creator more than almost any other task.
And, on top of that, it doesn't need to be a massive time-suck.
So, if you'd like to take the opportunity to spend a little time getting your mailing list in order - whether that means starting one, or just improving what you've already got - this is your chance to do just that.
Not only will you get all the information and advice you need to do this, you'll get feedback and support along the way, making this as pain-free and straightforward as possible.
This course is closed for enrollment.